Moving furniture is an inevitable part of the relocation process, and unfortunately, it can also be the most difficult aspect of moving. Plus, moving furniture can be very dangerous if you're not prepared with the proper safety measures and tools necessary for the job. It's plain and simple; you need help moving furniture. Instead of stressing about how you will move heavy pieces of furniture out of your old home, get moving help and hire local moving services!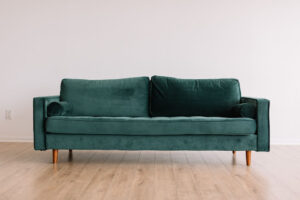 Avoid Moving Furniture By Yourself
Moving furniture doesn't have to be, nor should it be, a solo job; it's absolutely okay to ask for help! Even if you don't hire professional movers, consider asking friends and family for help. It's easy to look at a piece of furniture and feel confident moving it yourself. However, looks can be deceiving, especially if you don't have the proper tools to move the furniture safely. Take the safest option by hiring professional, careful movers to help you with your furniture. 
Always Put Safety First
Whether or not you're hiring professionals to help you move your furniture, it's always important to be as safe as possible throughout the process. Clear entries and exits free of potential obstacles. Before moving anything, carefully observe your area's surroundings to find out if there's anything that could be hazardous. Keep weather conditions in mind before moving furniture, as rain, ice, or snow could be very dangerous. As a general rule, always keep pathways clear when moving furniture. 
---
Are You Looking for Moving Companies in Cambridge? Look no further, and Don't Get Storrowed!
---
Decide Whether or Not to Move Your Furniture
Before moving furniture, consider deciding whether or not you'd like to attempt the process at all. Even with other people, moving furniture can be very risky for everyone involved. Mishandling furniture can cause damage to the home, which can be very inconvenient as you're trying to move out of the property. Plus, moving furniture can lead to serious and troublesome injuries. Plus, sourcing transportation of your furniture may cost more than you think if you don't have access to a vehicle with enough space. 
Hire Professional Movers for Your Furniture
Hiring a professional moving company is the best way to move your furniture safely, effectively, and stress-free. Unlike moving furniture all alone, professional movers can prevent damage to the property, serious injuries, and expensive transportation costs. However, there are even greater benefits to hiring professionals. A reputable moving company will always take good care of your belongings and provide high-quality services so that you can focus on other tasks in your life.
Eagle Lines is a Boston moving company that would be happy to help you move your furniture! We provide professional packing services and long-distance moving services. 
Contact us to learn how we can help you move your furniture!