Eagle Lines has worked as Boston movers and has called New England our home for over 25 years.
Our years of experience and our trained professional staff combine to make a Boston moving company that's ready to tackle everything from long distance to international to local moving services.
We realize that moving your residence or business is stressful undertaking whether you're moving down the block or across the country. We're eager to pack & carry that burden for you, ensuring your belongings are expertly protected, packed with care, and arrive safely to your new home.
When you're searching for a fully licensed and insured Boston mover that has the experience, expert staff, and professional status to take care of your moving needs, Eagle Lines is your best choice.
We offer: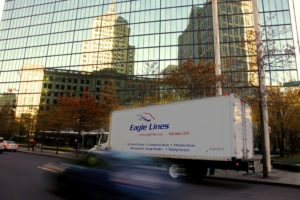 We're more than Boston movers, though! Our services range from providing packing materials to offering freight shipping & storage services to packing and unpacking everything for you!
We work with every customer to create a moving plan that will work for them and their needs. We take pride in our ability to focus on your needs by employing the highest standards in customer service.
As your local & professional Boston movers, we'll minimize your waiting time, cater to any special needs or requests you have, and ensure your move is as stress-free and seamless as possible.
Our trained staff will be happy to provide you with a free estimate for your next move, no matter how much or how little you want us to take care of for you.
Contact us to speak with one of our staff about your needs, and we'll do our best to accomodate as well as provide you with an accurate and affordable estimate.