Since 1992, Eagle Lines has been providing superior service to its customers as the premier Boston moving company. Our customers know they can count on our experienced staff to help them relocate without worrying about their belongings or choice of a local Boston mover. When you're searching for a fully licensed and insured Boston mover that has the experience, expert staff and professional status to take care of your moving needs, Eagle Lines is eager to help you with any type of move:
We realize that moving your residence or business can be a stressful undertaking, and we are eager to carry that burden for you – ensuring your belongings are expertly protected and packed with care, arriving unharmed to your new home.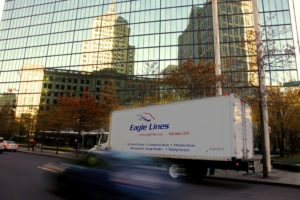 Our trained staff will be happy to provide you with a free estimate for your next move, no matter how much or how little you want us to take care of for you. We'll do all your packing and unpacking if necessary, or simply store your treasured belongings until you have an ideal place to deliver them to. You can also receive your free estimate from our professional staff via an onsite home survey. Alternatively, you may choose to estimate the cost of your move by calling us or by providing an inventory on our website.
We take pride in our ability to focus on your needs by employing the highest standards in customer service. As your local and professional Boston mover, we'll minimize your waiting time, cater to any special needs or requests and ensure your move is as stress-free and seamless as possible.