Boston is a vibrant city with a wide variety of innovation, culture, and history. Whether you've always wanted to visit the famous Fenway Park or stroll down the centuries-old streets, there's something for everyone in Boston! However, before getting acquainted with this amazing city, you have to plan your move. Here's what you need to know about Boston and why you should hire professional, local movers.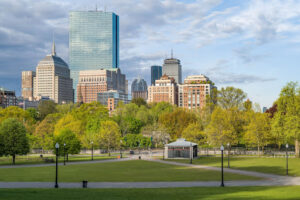 About Boston
Boston is the capital of Massachusetts, with a population of 689,326 people, making it the state's largest city. It sits beside the Atlantic Ocean in an area known as the Massachusetts Bay. With roots dating back to 1630, Boston is a city rich in history. It's particularly famous for its part in the American Revolution since it was the location of the Boston Massacre (1770) and the Boston Tea Party (1773). 
In the mid-1800s, Boston played a significant role in the anti-slavery movement and the Industrial Revolution. Today, high-tech and financial industries make up the majority of its economy. It's also home to some of the United State's leading colleges, including Boston University. 
Moving to Boston – The
Natural Beauty
Despite being one of the largest cities in Massachusetts, Boston has a lot to offer regarding outdoor activities and beautiful natural wonders. Whether it be Boston's iconic fall colors, oceanside views, or abundance of public parks, nature lovers will still have a lot to explore! For example, the city is home to one of the country's first public parks, the Boston Commons. Many locals also find the surrounding area of Middlesex to come with gorgeous, scenic views. 
---
If You're Looking for Around for
Moving Companies in Cambridge
, Click to Learn About Our Services in The People's Republic!
---
Defining Characteristics
Since it's one of the oldest cities in the United States, living in Boston can feel like stepping into a time machine. Old buildings dating back to the 1700s pave the streets, and there are a plethora of museums for history buffs to discover. Boston is also known for passionately supporting the arts, and you can find several art galleries, music performances, and theaters within the Boston area. 
Moving to Boston
Preparing to move to Boston can be an exciting time, but it can also be stressful. Many new residents fail to consider certain details unique to Boston. For example, many local moving services know to avoid Storrow Drive due to its low clearance. The high number of moving vans stuck on this road led to the local term "getting storrowed." Also, navigating the city can be difficult during the late summer and early fall due to a large influx of new college students and lease turnovers. 
Eagle Lines prides itself on being a premier Boston moving company, and we offer moving and storage services for new, incoming Boston residents. If you've been looking for a local moving company, contact us to learn more about what we can do for you!