Are you considering different moving companies in Cambridge? When moving in or out of Cambridge, it is wise to consider the unique traffic challenges you will face, especially if you're unfamiliar with the area. Our gorgeous, historic area is home to beautiful roads, buildings, bridges, and architecture that present unique challenges when moving.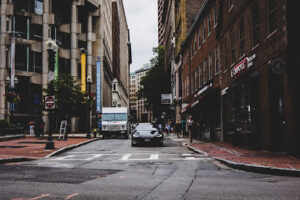 Moving Companies in Cambridge – Understand the Challenges 
Cambridge is part of the Boston metropolitan area and home to many of the colleges in the Boston area. In general, the area has many unique traffic challenges. Some of these are directly related to Boston being fourth on the list for the number of colleges in any American city.
With 35 colleges, community colleges, and universities, approximately 152,000 students attend school in the Boston area. Many students move in and out of the area yearly at around the same time. 
Other challenges in the Boston and Cambridge area include the skinny, winding roads. These obstacles present problems when moving in or out of the Cambridge area. 
Unique Challenges of Cambridge 
Allston Christmas
September 1st is known as Allston Christmas in the Boston Area due to 70% of the leases in the thousands of apartments in Allston and surrounding areas all re-setting on the same day. Thousands of college students all move in and out of apartments on the same day, making navigating the street and moving logistics difficult for many people. 
Storrow Drive
Storrow Drive is a major crosstown parkway in the Boston area, and it's notorious for terrible traffic issues like aggressive driving, ponding, and low clearance areas. A well-known phrase among locals is "don't get storrowed;" this refers to trucks attempting to travel through tunnels without enough clearance—a common occurrence with moving in or out of the area without experience. 
Truck Restricted Streets
There are many truck-restricted streets in the Cambridge area, and the government allows exceptions when moving or when a truck has a specific destination on a pre-determined street. However, Cambridgema.gov encourages all drivers to use their system or posted truck routes.
Boston Driving
The streets in the Boston area are some of the oldest streets in the country, dating back to Colonial times. Driving becomes a nightmare when you add traffic congestion, pedestrians, and bicycle traffic. 
For over 25 years, Eagle Lines has proudly called New England home, serving the region as a premier Boston moving company. Eagle lines offers professional packing services to those moving in or out of the area. With years of experience, we're ready to face all the unique challenges when moving at any time of year.
If you need moving help in the Boston area, contact Eagle Lines online or call 1-800-668-3324.