If you are not familiar with Boston and its roadways, you probably have not heard of the term "Storrowed." As Boston movers, we've seen many truck get "Storrowed" over the years, and beleive us when we say, you don't want that happening to you!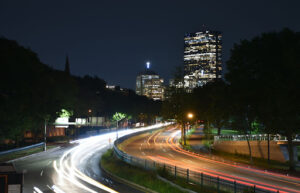 Every year, when thousands of college students return to the city in preparation for the fall semester, Boston sees an influx of traffic and traffic-related nightmares. This time of year has become known as Allston Christmas. Navigating through Allston Christmas during a move is likely to cause some kind of trauma if you opt-out of hiring a professional Boston moving company.
---
In Need of An Office Moving Company for Your Business? Click the Link to Learn More About Our Services!
---
Allston Christmas
With the flood of approximately 250,000 college students entering the city, a moving extravaganza takes place in the days leading up to September 1st, which is when the majority of apartment leases start in Boston. This moving frenzy has been nicknamed Allston Christmas.
In the madness that is Allston Christmas, furniture and belongings are discarded along the sidewalks while renters shuffle through the chaos. It is not uncommon for moving trucks to be double-parked along the streets of Boston for as far as the eye can see.
Avoid the frustration of hiring a moving company that has little to no experience with maneuvering the city during peak Allston Christmas time. Hire a local Boston moving company.
---
Click to Learn About Our Professional Packing Services!
---
Don't Get "Storrowed"
To put it simply: large trucks need to avoid certain roads.
With its low-lying bridge, Boston's Storrow Drive is infamous for the number of accidents that occur particularly during Allston Christmas. These accidents that occur on Storrow Drive are specifically truck-to-bridge collisions. In fact, the phenomenon of trucks hitting the underside of a bridge on the parkway has become so iconic that the term "Storrowed" now loosely applies to any truck-hitting-bridge incident around New England.
Unfortunately, this is a common occurrence. According to Boston.com, "there have been six 'Storrowings' along Storrow Drive [already] in 2021, as well as one each on Memorial Drive and Soldiers Field Road, and one in Canton and Blackstone, Mass. Plus, there's the I-93 truck crash in July, which could be considered a little more serious than your average Storrowing."
There are a number of roads in Boston that are not moving truck-friendly. Only professionals and careful movers that are familiar with these roadways can be trusted to avoid the trauma associated with Storrow Drive.
How to Avoid getting "Storrowed"
-Research your route!
-Source local moving services that have experience driving in the area
-Pay attention to signage
-Check out navigation apps
If you insist on driving yourself, in addition to avoiding Storrow Drive, be sure to also circumvent Memorial Drive and Solider's Field Road too.