Moving to a new city can be exciting, and it's often the beginning of a new chapter in your life. A new home means meeting new people, eating new food, visiting new places, and having new experiences; this is especially true if you're moving to a lively, thriving metropolis like Boston. For that, you'll need a Boston moving company.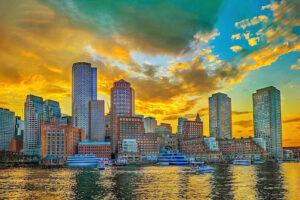 If you've lived in New York City, you may think Boston is similar. After all, both are populated and cultured east coast cities with distinct seasons. However, they have distinct differences that must be considered when relocating from one city to another. Here's what you need to know about moving from New York City to Boston and what to expect.
Lifestyle
The main difference between New York City and Boston is size and population. Boston covers 48.4 square miles and has a population of 675,647. Meanwhile, New York has an area of 300.46 square miles with a staggering population of 8,804,190. New York is much denser than Boston, housing 29,302 people per square mile, and Boston's population density is less than half that at 13,977 people per square mile.
Both Boston and New York have rich histories, and they also prominently feature public transportation. Beantown and the Big Apple also have great food, several museums, and large populations of college students. Even so, they're still very different from each other.
Boston is a bit more sports-centric than New York, and the cost of living in Boston is slightly lower than in New York City. If you're looking for a late-night scene, most bars in Boston shut down around 1:45 am, while many New York watering holes are open until 4:00 am – this is mostly due to local laws.
---
---
Moving from NYC to Boston – Route
The drive from New York City to Boston will take between 3.5 and 5.5 hours, depending on traffic conditions and which route you choose. The nice thing about this trip is that it's pretty scenic, and there are several places you could stop if you get tired of traveling. If you really want to get a jump on traffic-less driving hours, it's best to head out in the early hours of the morning.
---
Are You Looking For Moving Companies in Cambridge? Give Us a Call to Learn About Our Services!
---
Moving from NYC to Boston – Traffic
Boston and New York are two of the most densely populated cities on the east coast, so traffic will likely be a factor. Try to avoid peak traffic times like rush hour (3-6 pm on weekdays) and Sunday afternoons (between 2-7 pm) when everyone is trying to get back in time for work on Monday. Be aware of what's going on that weekend (NFL games in the area or other large events), so you don't run into large swaths of vehicles trying to get in or out of a confined area.
If you're moving from NYC to Boston, contact us at Eagle Lines Moving & Storage Solutions. We're one of the premier local moving services in the northeast and specialize in long-distance moving services.
Call us at (617)923-3700 to begin the moving process and to discuss our professional packing services.