Boston is one of the most diverse, vibrant, and prosperous cities in the United States. Moving to Boston is something to consider if you'd like to experience living in one of America's most unique and historic cities! Before you hire a Boston moving company, here are some things to know about your potential relocation to Beantown.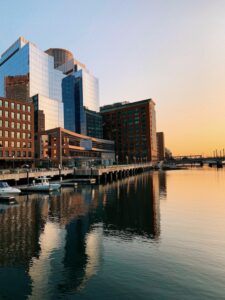 Boston Living – What to Expect
If you're a transplant to Boston, you won't be alone. According to the Boston Redevelopment Authority, 152,000 college students attend 35 universities and community colleges. For this reason, the population is very educated and diverse; that being said, there's also a bit of a space crunch. 
There's a small amount of space in Boston, but a seemingly infinite number of people want to live there; this means that the cost of living can be extremely high. According to a CNBC article, Boston has the third highest rent prices in the country, only behind New York City and San Francisco. 
Moving to Boston – Logistics
Boston is one of the most densely populated cities in the United States; this makes parking scarce. Depending on where you live, you might be able to get around without a car. You can walk, ride a bike, or rely on rideshare services like Lyft and Uber. You could also take the "T," which is the shorthand term for the Massachusetts Bay Transportation Authority, and it's comprised of a subway, buses, rail lines, and ferry routes. As you can see, there are plenty of ways to get around without your own car. 
---
Moving To Boston? Don't Get
Storrowed
! Hire a Professional Moving Team
---
Cultural Factors
Boston is one of the cultural centers of America. Aside from the many universities, Boston is also home to 58 museums. It has a rich history, with many of its old buildings and historical landmarks still intact. One of those landmarks is Fenway Park, where the Boston Red Sox play. Every summer, millions of baseball fans flock to Fenway Park to watch a game, relax, and enjoy America's pastime. 
Summers are wonderful in Boston, and the locals are passionate about their sports teams. If that wasn't enough, Boston has an amazing food scene. Delicacies range from local staples like baked beans and New England clam chowder to delicious Italian food.
Why You Should Hire a Boston Moving Company
If you're considering moving to Boston, you should hire local moving services. Our Eagle Lines Moving & Storage Services professionals are careful movers with extensive knowledge of the Boston metropolitan area. 
To start your move, contact us by email or calling at (617) 923-3700.