Moving can be exciting, but traversing a brand new city can be tense. When you're relocating to an unfamiliar area, it can be hard to navigate the roads – this is especially true for Boston, a city known for its bustling community and difficult driving. With that said, it's a wonderful place to live, and you just have to get through the moving process. To help you understand the act of "storrowing" and Eagle Line's moving services, here's a guide to help you navigate the city!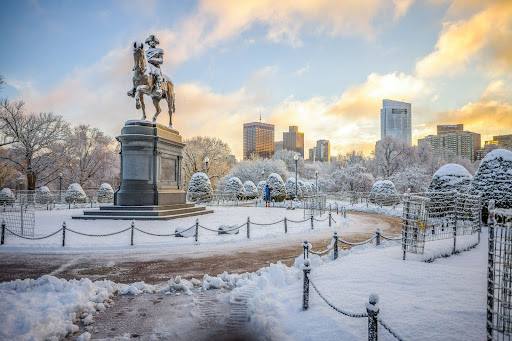 Moving in Boston
Like many major U.S. cities, Boston's busy atmosphere can be overwhelming for new movers. It's a wonderful place to be once you're all settled in, but moving in Boston, or to Boston, can seem like a lot when making preparations. In general, it's best to hire professional movers who can help you traverse the roads and keep your personal belongings safe. As local Boston movers with 25 years of experience, our professionals at Eagle Lines know how to navigate the city best!
---
---
The Infamous Storrow Drive
In Boston, Storrow Drive is notorious for truck-to-bridge collisions; this happens when U-Haul trucks or commercial vehicles fail to recognize warning signs before entering the parkway. Yet, Storrow Drive isn't the only one of its kind. Previous accidents have occurred on Memorial Drive and Soldiers Field Road. Thankfully, many of these accidents haven't been serious, and the bridge has been durable enough to withstand collisions.
Storrowing
Storrow Drive has become so infamous for its truck-to-bridge collisions that locals have created their term for the phenomenon: storrowed. The causes of these collisions are often pointed at college students, but many of these accidents occur with professional drivers who live outside of Boston. Thus, there's a higher risk for new movers to accidentally enter the parkway, only to get stuck with their moving truck in heavy traffic. But local movers with experience do not make this costly mistake.
---
Click to Learn About Our Services
---
Planning Ahead
Instead of handling your move to Boston on your own, bring in some help. By working with professionals offering local moving services, you can traverse the city without having to worry about accidentally interacting with the infamous Storrow Drive. Before your move, book your appointment well in advance, get a parking permit, and securely pack your belongings – or arrange for professional packing services.
---
Do You Need to Store Items While Getting Adjusted to Your New Residence? We Are a Boston Storage Company With Space Available!
---
Navigating Boston
Boston is a great place to live, but it can be overwhelming for new movers. Instead of navigating the city on your own, leave it to the professionals. Eagle Lines has serviced the city for over 25 years, and we are proud to be an elite Boston moving company. We are careful movers who know Boston's safest traveling routines like the back of our hands! And, of course, we have a lot of experience with avoiding Storrow Drive and all the rest of Boston's accident-prone roads.