With a large, historic, and vibrant city such as Boston, moving can be an exciting experience. However, the process can be very stressful, especially if you're not familiar with the area. When choosing professional, local moving services, it's important to pick a team that will make the process as seamless as possible. With over 25 years of experience, Eagle Lines is a local Boston moving company that's ready to help you with your relocation. Here are some of the qualities we share with some of the best moving companies in Boston.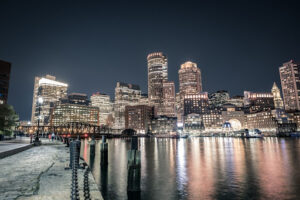 The Best Boston Moving Companies – Local Expertise
When moving to Boston, you want to pick a moving company that knows the city. A well-established local moving company will know which routes are ideal for your move and what times of day, week, and year would be most optimal for the move. Don't worry; our movers will never get "storrowed."
Ideally, you want to choose a moving company based within the city or on the outskirts of town. As a fully insured and licensed Boston moving company, Eagle Lines takes pride in having extensive knowledge of our home city and only hiring careful movers who will look after your possessions as if they were their own. 
An Abundance of Services
A local moving company shouldn't just offer moving services. While moving services are critical, there's much more to the process than just relocating personal belongings. With Eagle Lines, we offer services that go far beyond the moving portion of your relocation. Some of our professional services include professional packing services and secure local warehouse storage. We also offer long-distance moving services far beyond the city limits of Boston, including international travel!
Professionalism
A local Boston moving company should always prioritize customer service. Experience and training go hand in hand, and a professional moving company should include a team of knowledgeable individuals. Professional movers should respect the entire process by handling your belongings with care and having a no damage policy on personal items. 
Reliability
A local Boston moving company must be reliable and include a trusted history of professional, satisfactory customer service. Every moving company should include a list of testimonials that display their expertise and treatment toward customers. When doing research, pay close attention to reviews to make sure that the company is reliable and reputable. At Eagle Lines, we treat our customers with respect, courtesy, and professionalism.