The city of Boston, Massachusetts, is famous for many things: its chowder, the Red Sox, Storrowing, and cream pies. But what is it really like to live there? Boston is an incredibly unique place, so there are many factors you should consider before packing your bags and heading across the country. Here are some pros and cons of moving to Boston so you can weigh your options and determine if moving to America's "walking city" is right for you.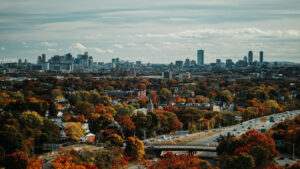 Should I Move to Boston? The Pros Of Moving To Boston
Boston is rich in culture and history, so you'll never run out of things to do in the city. There are events and sights to see year-round. Appreciate masterpieces at the Museum of Fine Arts. Gaze at dolphins and whales at the New England Aquarium. Watch a Red Sox game at Fenway Park. Green spaces are abundant, so you'll find yourself feeling at home and surrounded by nature, even in the depths of the city.
The very design of Boston itself also promotes health and socialization, and it's extremely walkable and one of America's most densely populated cities. As such, you may be living in a metropolitan city, but you'll feel like you're living among close neighbors and friends.
Should I Move to Boston? The Cons Of Moving To Boston
While Boston is beautiful, and there's always something to do, the city is not for everyone. For one thing, the cost of living in Boston is expensive. In fact, Boston is in the top 1% of the most expensive cities in the world! Flights out of Boston and travel within Boston are just as pricey. If you travel a lot, you may struggle to keep up with the costs.
Boston is a beautifully unique city, but it isn't for everyone. If you've evaluated the pros and cons and are sure that moving to Boston is right for you, our professionals at Eagle Lines are here to help!
It's best to use a professional, long-distance moving company like Eagle Lines to ensure your relocation goes as smoothly as possible. Contact us to learn more about our moving and professional packing services today!