Whether you're a college student or a young adult in need of a fresh start, moving out on your own can be a mixture of excitement and stress. There are many things you need to plan for and new responsibilities you may not be accustomed to. The biggest thing to remember is that you're not alone, and it's okay to feel overwhelmed. Hire a professional moving company with attentive and careful movers, and follow these steps to make the transition as seamless as possible!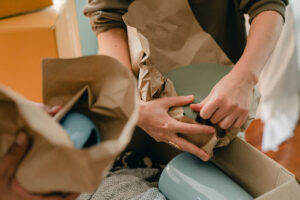 Calculate Your Budget First
Before starting your new life in your own place, start managing your finances. Budgeting can seem extremely overwhelming, especially when you're just starting. However, the important thing to remember is that it doesn't have to be overly complicated. Feel free to use convenient resources like a budgeting app to make the transition seamless. From there, it's merely a matter of tracking your spending and making sure you're staying within your budget. 
Create a Plan
You're not alone if you're worried about your first big move. Even seasoned movers struggle to create a moving plan that's completely stress-free. Thankfully, there are strategies you can use to make the process as simple as possible. Before anything, work with a professional moving company and review all your moving needs. Assemble supplies, organize all your belongings, and carefully plan out your packing schedule. Consider getting rid of items you no longer need and pack up your items several weeks before moving. 
---
Are You Planning on
Moving in Boston
This Spring or Fall? We'll Educate You on the Necessary Steps So You Don't Get
Storrowed
!
---
Take Care of Logistics
It isn't the most exciting portion of the moving process, but you'll thank yourself later for getting logistical needs done ahead of time. As you create your moving plan, consider the following logistical information:
-Update your home address
-Get a new driver's license if you move to another state
-Set up an affordable health insurance plan
-Update your vehicle's registration
-Consider purchasing renters insurance (if applicable)
-Research new local doctors
Develop New Life-Skills
Many people fail to realize how many responsibilities come with moving into a new place in a new city. It's perfectly normal to realize that you don't know how to do everything on your own, and what matters is comprehending those skills, so it's not as much of a learning curve when you're forced to do it without any assistance. It's never easy leaving the comforts of the nest for the first time!
Hire a Professional Company
Don't stress about your move; let a professional Boston moving company take care of everything for you! Eagle Lines offers professional local moving services, and we also provide local warehouse storage for customers needing more space and, of course, professional packing services. 
Contact us to learn more about our moving services!