A lot goes into planning a move, and packing all of your valued belongings is one of the most stressful elements of the whole ordeal. Clothing is typically easy to pack, but shoes are another story. Most people have more than one pair of shoes, and when a whole family's collection piles up, packing can be a hassle.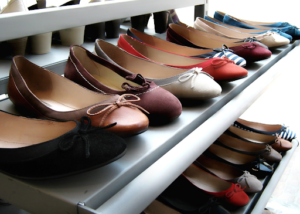 Here are a few tips to follow when packing up shoes for a move: 
How to Pack Shoes for Moving – Reduce Your Collection
To simplify packing before you start, sort through your shoes and sell, donate, or recycle the pairs you don't use. Unless a pair of shoes has sentimental value to you, you can make packing a little easier by lightening your load and re-homing them if you haven't worn them in years. If you feel like saving some shoes off-site, inquire about local warehouse storage options. 
How to Pack Shoes for Moving – Use Padding
If you're planning to pack most of your shoes in a tote or cardboard box, use padding to help them keep their shape. It's wise to use clean packing paper or bubble wrap for this task, as newspaper or used packing paper has the potential to stain light-colored shoes. 
For an extra space-saving option, use a pair of socks to stuff the insides of your shoes. This way, you are packing two items at the same time!
---
Avoid Getting '
Storrowed
' on Your Next Move!
---
Don't Pack All Shoes Together
When planning how to pack shoes for moving, think about how often you wear each pair of shoes. Seasonal shoes and those you don't wear very often can be packed together. The shoes you wear most often should be packed in an easy-to-access box so that you can cycle through them during your move. 
Expensive or delicate shoes should go in sturdy, individual boxes to keep them protected during the transition from your old home to your new home.
---
---
Ask the Professionals
If the idea of packing has you overwhelmed before you've started, it might be a good idea to utilize professional packing services. Many professional movers offer packing services as well, so reach out to reputable local moving services to learn about their packing solutions. 
Professional packing services are the best option for individuals and families who want to take the stress out of their move, as professionals know how to pack and move property efficiently. 
If you're moving to or from the Boston area, reach out to the experienced and careful movers at Eagle Lines, a Boston moving company that offers packing, moving, and storage services to keep your next move as stress-free as possible.
Moving in Boston can be a hair-raising experience; let us help you avoid all the unpleasant surprises.