Moving can be daunting. Between packing and unpacking your belongings along with transporting them to a new space, it's anything but a one-step operation. Although the experience of moving takes a toll on most people, there are lots of resources available to lessen moving stress and protect your belongings throughout the process.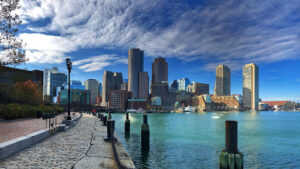 What Are Moving PODS?
Moving PODS are seen as one of the easiest and least expensive options for moving these days. These portable containers are dropped off in your driveway and can be transported whenever you move; for some, these pods can be a great resource for those interested in packing up all their belongings themselves. 
However, in some cases, taking the DIY route might not be the best decision. PODS are certainly convenient, but it's important to remember that you have to pack the container yourself before the pod can be movies your current space to the new one. In a city like Boston, that portion alone could be very stressful; if belongings are not packed correctly for mobile transport, they can become damaged. 
Boston is notorious for its historic and bumpy roads, which can be very hard on items during a move. Also, many of the roads around Boston are narrow and lack adequate space for parking most vehicles, let alone a PODS container.
Moving to Boston With PODS
This brings us to the next challenge: putting the belongings in your new place.
With the exception of a few neighborhoods, the majority of Boston's residential units are apartment-style. This includes Brownstones and Brick Row Houses, both of which are tall houses stacked next to one another in long rows. But, with their height comes steep, winding staircases. This is especially inconvenient when you're moving personal belongings, careful movers who know the architecture of the region have no issue with this.
Thankfully, a local moving company can account for nearly all the drawbacks that come with using portable moving containers in a city like Boston. 
Professional movers are trained to provide a superior moving experience. A local moving company will know the area well. This means that they can safely transport your belongings, conveniently park their vehicle, and carefully unpack your items.
Plus, carrying heavy objects up a staircase is routine for anyone employed by a Boston moving company. Thus, you don't have to worry about injuring yourself during the moving process! 
If you've ever debated whether to use PODS or local moving services for your next move, the latter is the way to go. Eagle Lines is a safer bet for a city like Boston with moving conditions that are anything but cut and dry.  
If you're looking for help with your Boston move, contact Eagle Lines online or call us at 1-800-668-3324!