Moving can be a tough process, especially when trying to keep track of all your belongings. You want to make sure everything is protected, safe, and secure. When exposed to the elements, furniture can lose its quality. If your furniture gets damaged, it can be very costly. For these reasons, wrapping furniture is very important.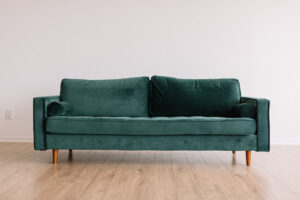 We all have furniture that is either holds sentimental or monetary value to us. To avoid damaging or losing your furniture, use strategic wrapping techniques. If you're unfamiliar with wrapping furniture, here are some tips to help you. 
How Wrap Furniture for Moving – Plastic Wrap
Also known as stretch wrap, plastic wrap is an adhesive material that protects most furniture pieces during a move. Since it's tear-resistant, it stretches and molds to your furniture without getting damaged. 
Plastic wrap is recommended for furniture with drawers or doors. If these open during the move, it could damage the furniture or other belongings around it. 
The best part about plastic wrap is that it doesn't require any tape. The material is made to stick to your furniture, allowing you to wrap it around your belongings. The adhesive nature of plastic wraps keeps it snug to your furniture and prevents any damage during the moving process. It's recommended that two people partake in the process of wrapping: one to hold the furniture and the other to wrap it. 
Take Advantage of Moving Blankets
Moving blankets are another helpful moving tool. They're designed to be shock absorbent and protect your belongings from impact or scratches, and by placing them around doorways, you can prevent scratching or damage from furniture bumping into walls. 
Using a moving blanket:
-Place it on the furniture piece of your choice.
-From there, secure the blanket around the furniture with packing tape. You can also use stretch wrap to secure the moving blanket to the piece of furniture. 
-Keep a few spare moving blankets ready. You may need more than one to place in a room or the bed of a truck.
Pull Out Your Toolbox
You don't need to be a handy person to wrap furniture. Even so, it can be helpful to have a few basic tools. These are user-friendly tools and can be found in any basic tool kit or purchased at most hardware stores.
The following tools may be needed before or during your move:
-Corrugated cardboard sheets
-Sofa and mattress covers
-Packing tape
-Dolly
Professionally Pack Your Furniture!
The moving professionals at Eagle Lines understand that moving can be stressful and packing isn't as straightforward as it may always seem. We're a Boston moving company that has been in operation for decades. Our professional packing services meet the reference standard for packing goods and furniture with care and expertise. 
Let us relieve some moving stress by packing your furniture for you! Our careful movers use the highest quality packing materials, attend regular packing/moving seminars, and treat your belongings with care. 
We're happy to help you pack your items and move them to your new location so that you can focus on more important things. Contact us today with any questions about packing, local moving services, or long distance moving services!