If you're one of over 40 million Americans who will likely move this year, we know you want to choose a Boston moving company that will ensure all of your belongings arrive at your new home safely and securely–especially if you're traveling a long distance.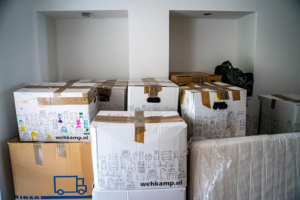 Luckily, if you work with careful movers, you have nothing to worry about! Long-distance moving services like Eagle Lines take extra care when transporting and assembling your families' belongings. 
Below, we'll look at how long-distance movers work with your best interest in mind. 
Safe and convenient packing and unpacking
When it comes to making a long-distance move, you don't just want to pack all of your belongings haphazardly into cardboard boxes. 
To ensure all of your belongings are packed securely, many long-distance moving services also offer professional packing services. They will take the hassle of packing off of your hands, but they will also utilize things like high-quality containers, bubble wrap, and other packing materials to ensure that any fragile items can handle the long, possibly bumpy roads to your new home. 
When long-distance movers pack your belongings, they will also ensure all containers are properly sealed and as secure as possible.
What's more, long-distance movers can also unpack your belongings if you need them to! Moving is stressful, but careful movers can take some of the stress off your shoulders with these services. 
---
Don't Find Yourself "
Storrowed
" During Your Next Move!
---
Furniture assembling and disassembling
Sometimes, furniture will need to be disassembled before it hits the road; this will help save space in the moving truck, saving you money! It also allows furniture to move more easily through narrow passageways when it's time to transfer it to your new home. Additionally, delicate furniture parts may need to be carefully packed to avoid damage.
Luckily, experienced long-distance movers will likely offer to assemble and disassemble your furniture if need be. They'll have all the necessary tools on hand to make both of these processes painless, and you'll have peace of mind knowing all of your furniture will be in great condition–and assembled in your new home without you having to break a sweat!
How Do Long-Distance Movers Work? Trust Eagle Lines
Eagle Lines is a premier local moving company with long-distance and commercial moving services in Boston. We know that you put a lot of trust into a team when soliciting long-distance moving services, and our team will always deliver with our exceptional services. 
So, if you're moving in Boston, our careful movers are here to help! Contact us today to learn more about our local moving services and what we can do to make your moving experience a breeze.