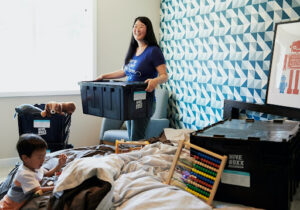 It might have been quite some time since your last move, and tax regulations change quite frequently. All U.S. individuals used to be able to claim a moving expense tax deduction, and since 2017, this deduction has been suspended. If you aren't an active military member or a member of their family, you're unlikely to qualify for the tax deduction. Here's everything you need to know about moving expenses and if you qualify for a tax deduction.
Moving Expenses
Expenses that you plan to claim as your moving expense deduction must be reasonable and required for the relocation; this can include the cost of rental trucks, gas mileage, local moving company, or local warehouse storage services for a regional move. If you're moving long-distance, you might plan to include hotel costs, toll fees, or gas. The main exception is that you can't deduct expenses related to meals. The IRS allows movers to use their standard mileage rate of 17 cents per mile to calculate potential deductions.
Active Military Duty
As of 2017, most people living in the U.S. cannot deduct moving expenses on their federal tax returns. Until further notice, the moving expense deduction is halted until 2025. However, if you serve in the active military or are a family member of someone in the military, your moving expenses can still be deducted. California and New York continue to be two of only a few select states that allow moving expense deductions on state tax returns.
The Distance Test
The deduction also requires a distance between your new workplace and your previous home. In fact, your new workplace has to be 50 miles away from your previous residence. If you're a current active member of the U.S. military, you can automatically claim your expense no matter where your new home is located. You can also claim your expense if you're changing your military status or terminating your service.
The Time Test
To claim your tax deduction, your move should be timed around the beginning of your new job. Within the first twelve months of your relocation, you'll have to be starting a new full-time job, specifically for at least 39 weeks. The only exceptions include emergency moves related to medical reasons or your child finishing school near your old home.
Eagle Lines
Eagle Lines is a Boston moving company with over 25 years of experience. We're careful movers that provide professional packing services for people in Massachusetts.
Contact us to learn more about our moving services!