You've packed everything up, you've officially closed on your home, and you're preparing to move into your new house. Upon looking around, you realize that you don't have anywhere to keep your belongings. Thankfully, there are resources available to help! At Eagle Lines, we don't just help you move; we offer secure, climate-controlled local warehouse storage services around the Boston area. Here are all the reasons why you should consider renting a storage space while you move and using a company that offers both moving and storage in Boston.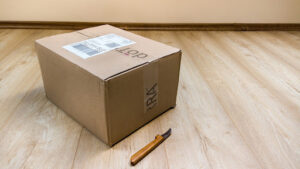 Take Your Time
Instead of feeling rushed to get everything out of your home, you can store things away over a prolonged period of time. This strategy can help by getting a head start on packing over several weeks or getting unnecessary items out of the way before packing begins. By the time you get a large majority of belongings out of your home, you can take inventory of what you have left and figure out what you still want to keep what has been stored or give the items away.
Organize Your Space
Moving can be a perfect opportunity to reorganize your belongings and declutter everything you don't need. If you want to keep things that you don't need right away, you can store them away for later use. If you need to give away some items but don't have any room left for a donation pile, you can also place that in storage space. Moving can help create some clarity on items you cherish versus those that you no longer need. 
---
Learn About Our Long Distance Moving Services
---
Secure Your Belongings
You may own many valuable items that you'd like not to risk losing during the move, so you'll need a safe place to store them away. A reputable storage facility will keep all your belongings safe, secure, and protected. If you're planning on moving fragile items into your new home, storage spaces can prevent them from getting damaged during the process, and you can move them in last after being stored away. 
Have a Back-Up Plan
Moving can be an unpredictable process. Even if you think everything is set in place, you never know when you may have to change your course of action. For example, you may be completely moved out of your old home before your new one is 100% done and ready to receive all of your items. In this case, having storage space will let you keep your belongings safe until you can move all items into your new home. 
Eagle Lines – A Boston Moving Company With Storage
If you plan to move to or move in Boston, Eagle Lines has got you covered. We provide local moving services, professional packing services, and storage options, allowing you to store your belongings while we help you relocate. 
Our local warehouse storage facilities continue to be one of the best in the Boston area, with climate-controlled amenities and top-notch security. Contact us today to learn more about our storage services!