Pool is a classic table game that people of many different ages and demographics can enjoy. Whether it's at the bar with friends, in your comfy game room, or somewhere else, a pool game can be a fun, nostalgic pastime.
Anyone who owns a pool table probably knows that they require some care and gentle handling in order to keep your pool table looking sleek and new. Read on to find out all about how to move your pool table, plus why it may be a task best left to professional pool table movers do the job.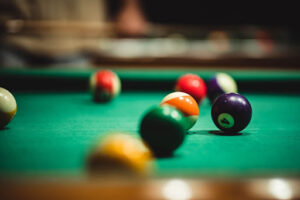 Moving Your Pool Table
Moving a pool table, whether it is just upstairs or a full-on move to another location, can be a fairly complicated task! Pool tables have a lot of parts, and they require special attention when disassembling them in order to ensure it's done correctly. Pool tables are also very heavy, sometimes weighing upwards of half a ton! You'll need to consider other things, such as the layout of your area and what entrances and exits you will move the table from.
Be sure to also measure things like doorways and the space that you will be moving the table through. You don't want to get the pool table to its final resting place only to have to move it again because it doesn't work for the space. Also, ensure you have all the proper tools you need for disassembly and reassembly, like a drill, screwdriver, and other common hand tools.
Why You Should Hire a Professional
Moving a table safely requires a team of people, which can be tough to find sometimes. Thus, you should consider hiring a professional group of pool table movers who have lots of experience moving heavy/delicate items like pool tables and know the best ways to disassemble and reassemble all the components.
Having careful movers who know what they are doing can help save you lots of time and stress regarding your pool table! Moving is already a busy time for most, so hiring out time-consuming, complicated tasks can be a very wise decision.
Don't leave a complicated move, like moving a pool table to amateurs; use a trusted Boston moving company/Boston movers to ensure nothing is damaged in the process.
Pool Table Movers
Pool tables are classic, and the right pool table can add the perfect touch to your home or business when cared for well. Part of maintaining a great pool table for years to come is moving it correctly when the table must be relocated. Because of the expertise required, moving a pool table is a task that is generally best left to the professionals.