There are several things regarding Boston that only native Bostonians are familiar with. Allston Christmas, for instance, is something that no out-of-towner would have any clue about; and is a perfect example of why hiring a local Boston moving company is the only way to go when picking one of the moving companies in Boston.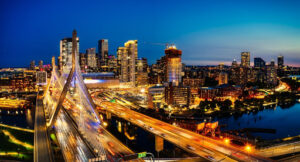 ---
---
Allston Christmas
If you're not from Boston, you may be wondering: what exactly is Allston Christmas?
Allston Christmas is the nickname for the moving extravaganza that takes place in the days leading up to September 1st when most apartment leases in Boston start.
Many landlords have adopted September 1st as the start date for their leases is largely due to the high number of college students in the city. There are more than 50 post-secondary educational institutions in Boston. Some of these institutions include Harvard, MIT, Boston University, and the University of Massachusetts, to name a few. There are approximately 250,000 students that attend Boston schools for graduate programs, undergraduate courses, and community college classes each year.
This means that a very large percentage of those students are the renters responsible for discarded furniture and the double-parked moving trucks that line the streets of Boston for as far as the eye can see during Allston Christmas.
Imagine a nationally-based moving company trying to maneuver around the city during the chaos that is Allston Christmas. It would be very frustrating for you, the mover, and the employees working for that moving company.
---
An
Overnight Moving Company
Can Help You Move Across Towns and States When Time Is Of The Essence!
---
Large Trucks Need to Avoid Certain Roads
Many roads are not moving truck-friendly. Only local professionals and careful movers can be trusted to avoid the pitfalls of Storrow Drive, Memorial Drive, and Soldier's Field Road at all costs.
Imagine an out-of-towner hired by a nationally-based moving company trying to drive a large U-Haul under any of the overpasses or bridges on any of those roads. They would certainly get stuck, making you the mockery of the city that is your new home.
---
For Your Next Move!
---
Driving in Boston Is Difficult
Boston is known for being difficult to navigate. Even locals sometimes have trouble staying cool, calm, and collected while driving through the maze of narrow streets congested with traffic. This may be part of the reason Boston's drivers are known for being so aggressive.
Not only are the roadways confusing due to lack of planning (thanks to the Pilgrims), they are jumbled with seemingly random dead ends, one-ways, and rotaries. To top that off, traffic is majorly impacted by major sporting events.
Only a local Boston moving company will know how to properly navigate the city during a Red Sox game.
Hiring movers that aren't familiar with Boston could, and likely will, result in disaster. Only a local moving company can be trusted with your move in the Boston area.